Show product videos from youtube on your products in the webshop, directly from Uniconta.
It is your webshop theme that decides if and how the videos are presented on the products.
The solution ensures that the video's url / code is sent to the webshop. Depending on the theme, additional plugins may be needed in your webshop, this is not included.
The extension requires ACF - Advanced Custom Fields to be installed on your webshop (not included)
Setup
Wedoio will create a field on Uniconta items where you can insert the video's URL / code.
Wedoio also sets up an ACF custom field in the Woocommerce shop where the video URL / code will be synced to.
In addition, we add a plugin to your Woocommerce shop which handles the synchronization. In this plugin, the ACF video field can be set.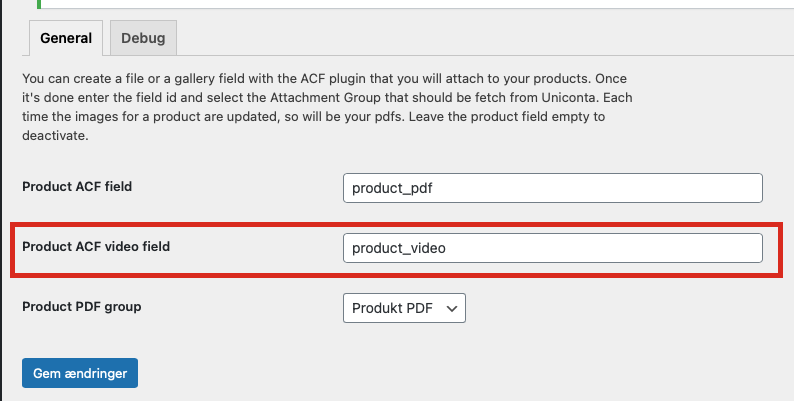 The image shows the ACF video field set in the extension
How it works
When you want to add a video to a product, simply add the URL / code of the video in the field in Uniconta

The image shows a video URL added to an item in Uniconta.
The item is saved and then the URL / code will be automatically synchronized over to the ACF field in Woocommerce.

The image shows the video URL synchronized to the ACF field in Woocommerce