Order status
Wedoio's Uniconta - WooCommerce Integration provides the ability to send order status e.g. awaiting payment, processing, on hold, completed, canceled, refunded, failed, from WooCommerce to sales orders in Uniconta.
Setup
At the setup, Wedoio will create a field on sales order in Uniconta which will contain the Woocommerce order status.
An extension plugin will be installed in your Woocommerce shop.
How it works
With this extension, sales order in Uniconta will be automatically updated with the order status in Woocommerce each time this status changes.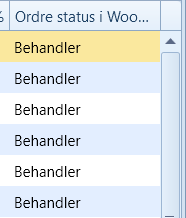 The image shows the order status from Woocommerce synchronized to Uniconta.